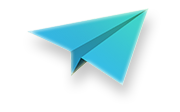 Here we go. Flyner is open! There will not be a whole lot of people online in the beginning as we still need to get the word out. So if you bring your friends to sign up right now, you might even have your own Flyner party. You will also get an early adopter status, which, in all probability, will have special perks later on.
The idea for Flyner came about back in the fall of 2010. One might think of it as a different kind of Omegle alternative. The thinking was similar to what is described on the About page. What if you could write a note and someone somewhere would be able to read it. Like a message in a bottle, but faster and with the possibility of writing back. What's more, you could send out a lot of notes, catch a bunch as well, and have many conversations going.
Now Flyner is finally here. In some ways it's like a chat, in others like a blog, and perhaps a bit like a social network. But really, it is quite unique and has its own interesting dynamics. We certainly hope you will enjoy it.
It's early days. At times you might have to wait to receive a response to your note. That's normal and will tend to happen until more people join in. You can still reply, even if you weren't online when the message came in. Eventually most conversations start out in real time. And you will be able to say you were here when it all started.
Have fun! Spread the word!